Syltenberget, Norrköping, Sweden.
Project Partners
Peter Lynch, architect and project director. Researcher, KTH Royal Institute of Technology, Stockholm.
Martin Heidesjö, urban planner, Norrköping municipality.
Dr. Mats Nordahl, data scientist, Division of Theoretical Computer Science, KTH Stockholm.
Anna Asplind, dancer/choreographer.
Project Consultants
Peter Korn, garden designer and plant specialist.
Linnea Andersdotter Rundgren, ecosystem restoration designer. Vice chair of Biotopbyggerna.
Project Overview
Timescape Garden is a biodiversity micropark on Norrköping's Syltenberget, a forested hill surrounded by industry. The garden will hopefully function as a biocentric civic space—a space of appearance of nonhuman beings to human beings. The presence, traces, and tracks of nonhuman beings should be strongly sensed here.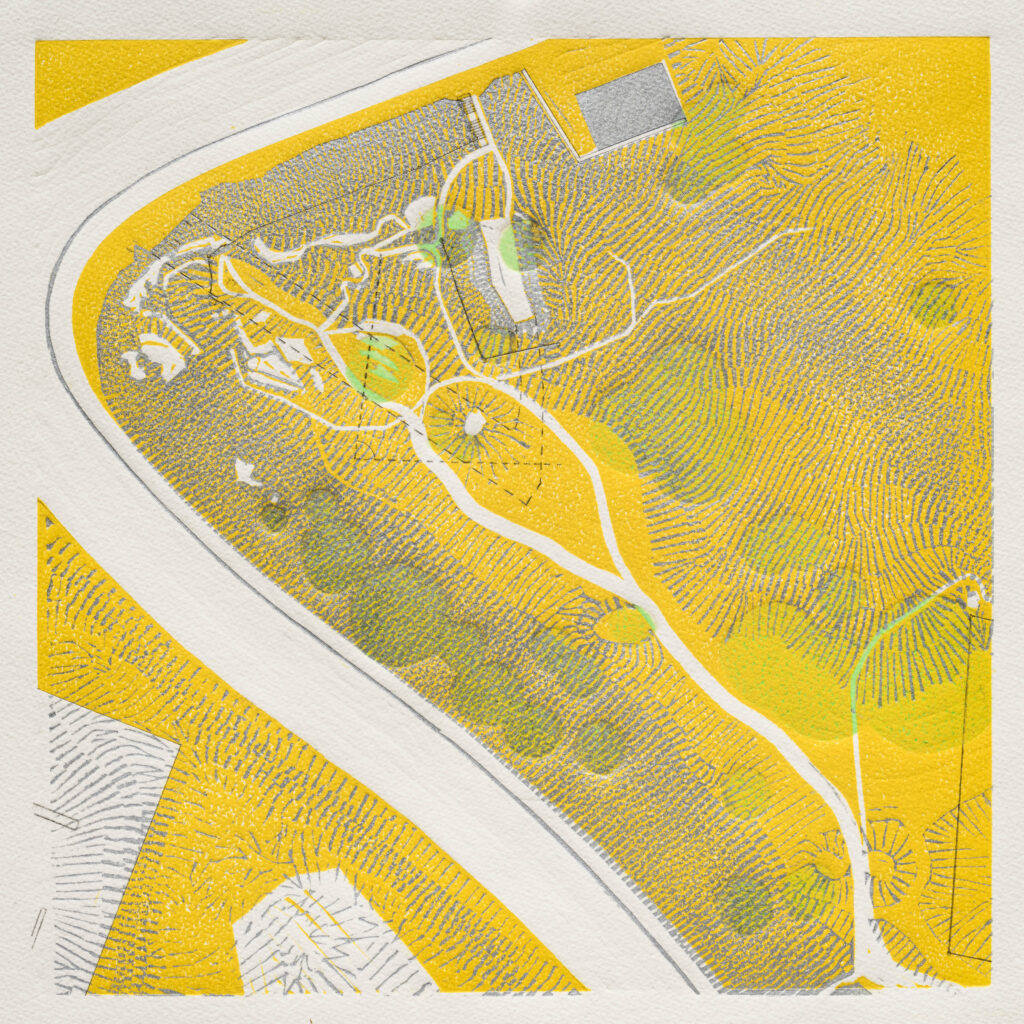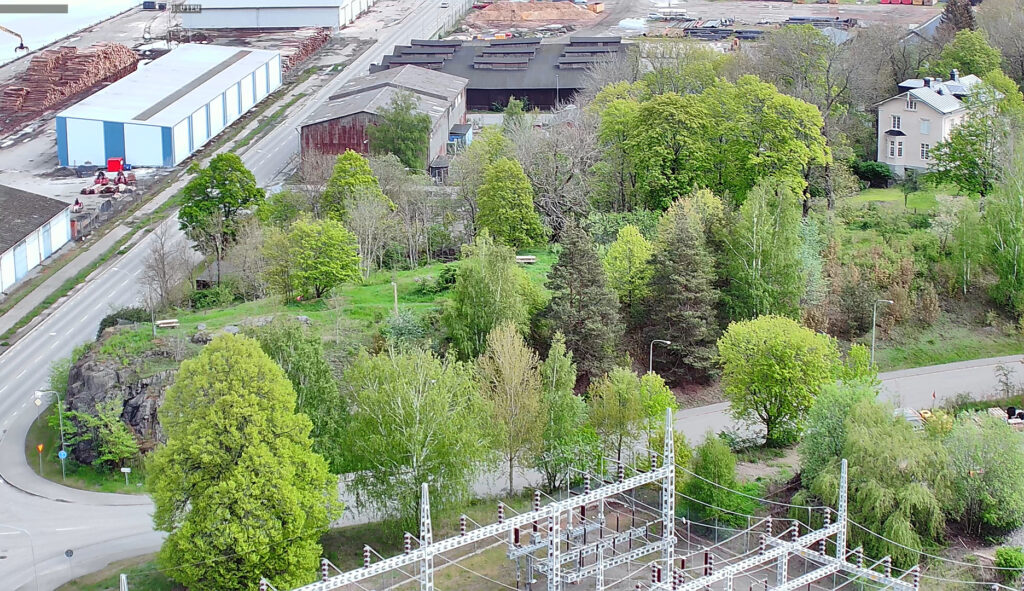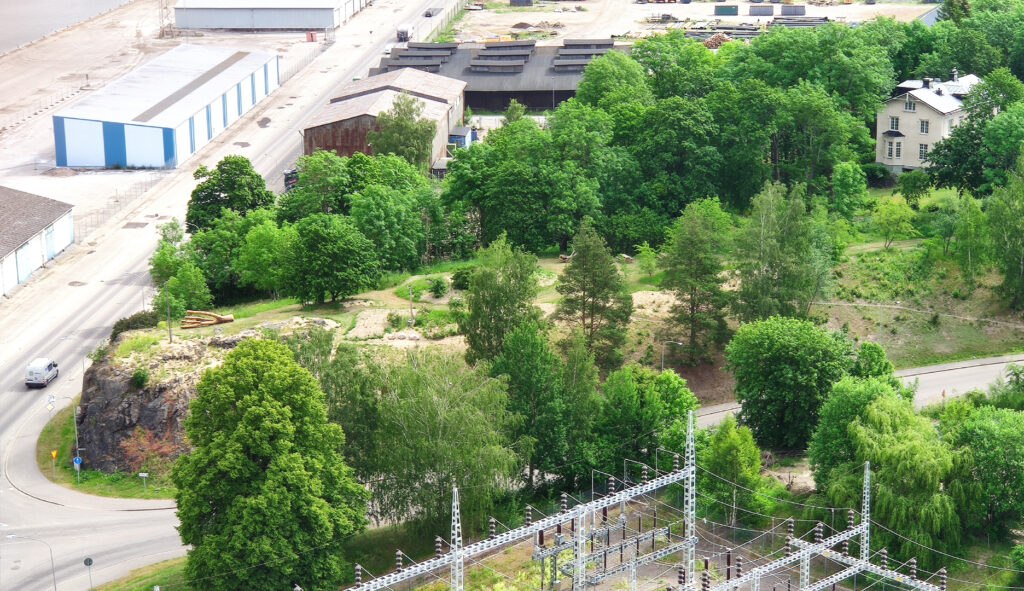 Nonhuman and human beings follow paths because they wish to go somewhere and do something. Their desires are expressed in their movements. Plants also move and express their desires, responding to sun, water, soil, and wind. Over the course of three years– spanning time before, during, and after the planting of a wildflower garden– two video cameras are recording the movements of every plant, animal, and human being on Syltenberget ridge, Norrköping.
A data scientist converts the raw video footage into vector lines registering movement tracks, which he compiles in line drawings. From the video images and vector lines we can identify the different types of beings and, in some cases, the motivations for their movements. A dancer, architect, and urban planner are visiting the site numerous times. During her visits the dancer is sensing the place, engaging it in an exploratory dance. Her movements are captured by the video cameras, vectorized, and transformed into line drawings that map the site's features, forces, and actors. The architect is observing, drawing, measuring, and modeling. The urban planner is speaking with the site's caretakers and visitors, gathering stories and information. We take part in each other's practices, sharing embodied knowledge. This shared understanding encompasses the tacit knowledge carried within our bodies, empathetic knowledge of nonhumans' and other humans' moving bodies, and attention to the body of the earth.
Proposed adjustments to the site, based on this embodied knowledge, include: opening up paths and clearings; planting; improving resting, viewing, nesting, and burrowing areas; and extending an old allée. These changes underscore unfamiliar time-senses that can be detected at the site, and reflect the desires that human and nonhuman beings have expressed at this place through their movement paths. At Syltenberget, human and nonhuman paths and desires are intertwined.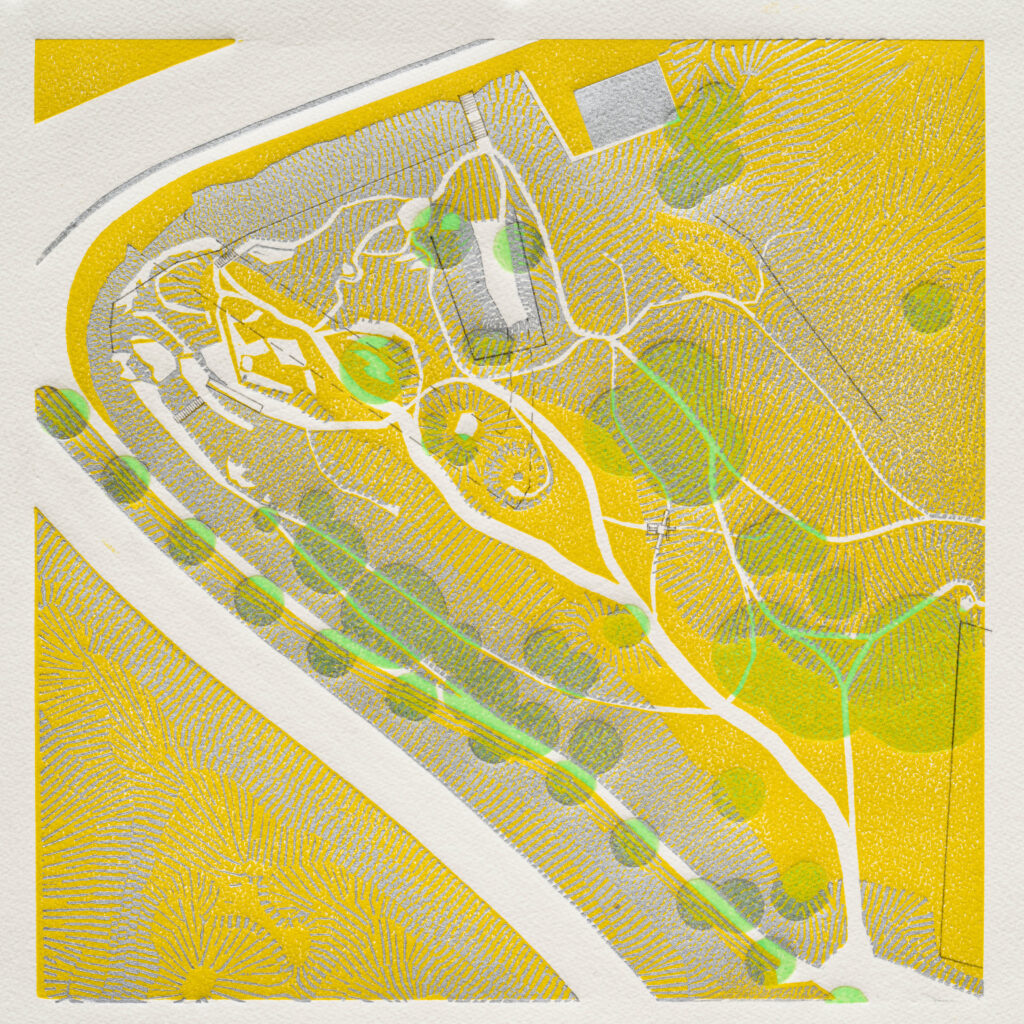 The initial design for the project was part of a group exhibition created and curated by architect Yael Hameiri Sainsaux entitled "Conceiving the Plan: Nuance and Intimacy in the Construction of Civic Space. In Honor of Diane Lewis (b. 1951 – d. May 2, 2017)" at the Italian Pavilion of the 17th International Architecture Exhibition of the Venice Biennale, October 8 – November 21, 2021. It was also exhibited at Cooper Union, New York City in April 2022, and is featured in Conceiving the Plan: Nuance and Intimacy in Civic Space, a large-format book of essays and projects honoring Architect Diane Lewis, published in April 2022 by Skira Editore.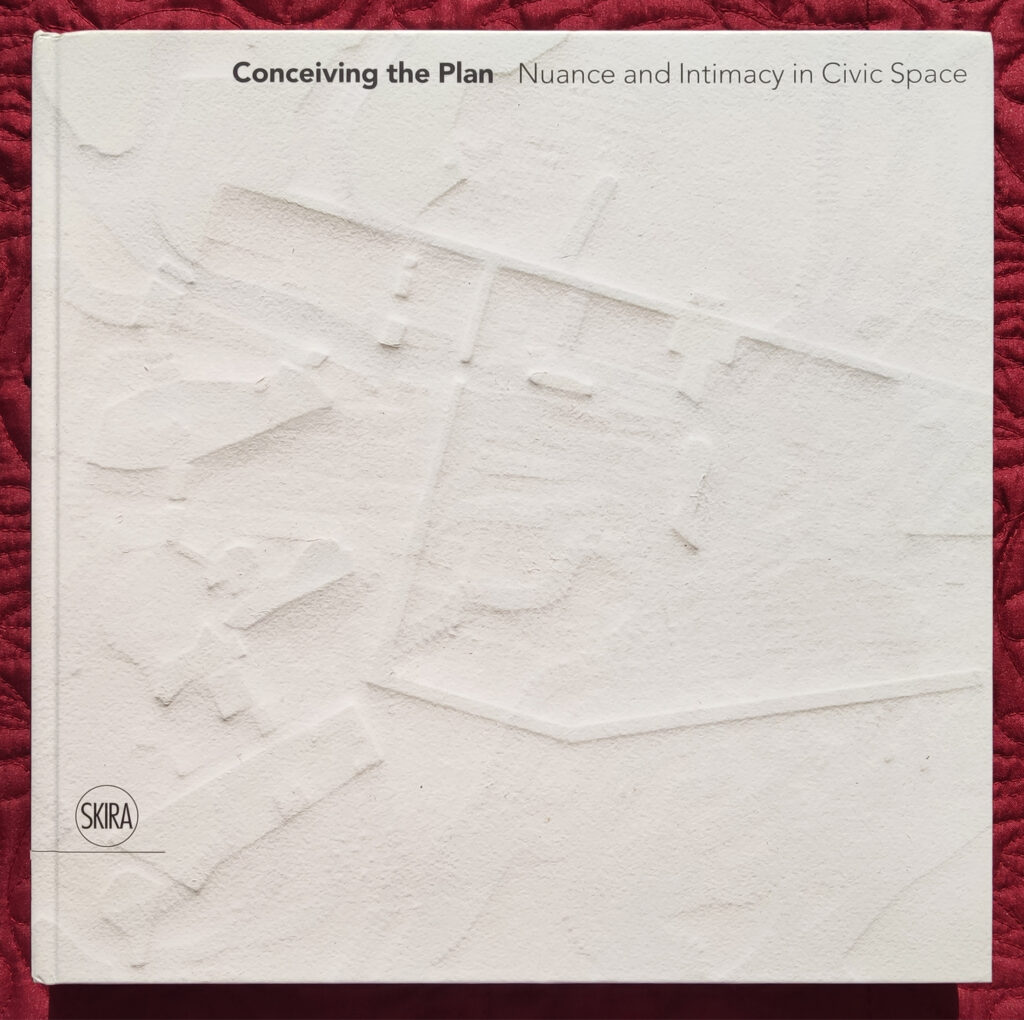 Research Dimension
Vinnova, Sweden's Innovation Agency, awarded the project a two-year research grant in October 2021. Data collection at the site had already been underway for one year. The ABE (Department of Architecture and the Built Environment) of KTH Royal Institute of Technology (Stockholm) and Norrköping municipality are partners for the Vinnova grant. The centerpiece of the project, a 1600 m2 wildflower garden at Syltenberget, was realized in May 2022 thanks to Vinnova; in-kind support from Norrköping Municipality; private sponsorship; and volunteer help from members of Naturskyddsföreningen Norrköping. Plant specialist Peter Korn prepared the planting plan, supplied plant material from his own nursery, and directed the planting work. In addition to the wildflower garden area, the Timescape Garden encompasses a forest glade of equal size. In 2023 Norrköping municipality staff and Linnea Rundgren, ecosystem restoration designer, will transform this glade, adding new plant species to increase food supply for birds and ground animals.
This project seeks to change habitual perceptions of the not-human world, and conventional landscape and urban design practices, in the following ways:
The project applies dance-based methods of site analysis developed by Swedish dancer/choreographer Anna Asplind, who draws inspiration from the 1960's work of dancer Anna Halprin and landscape architect Lawrence Halprin. At the timescape garden, Asplind is using dance-based methods to identify and imagine key paths, locations, viewsheds, and positions of the body from both human and not-human perspectives.
KTH data scientist Mats Nordahl has invented an AI-based motion analysis method that generates movement vectors from video footage. We are adapting this method as a tool for biosurveying. Every inflection in the path of a bird or the track of a field mouse captured by a video camera can be registered as a precise, complex line. AI can perform a sort of graphology: the animal's movement trace becomes a signature of that species' presence. This tool will allow us to measure the new wildflower garden's effect on Sylten's biodiversity/bioactivity; determine how well the dancer's choice of paths and resting places on Syltenberget corresponds to animals' choices; and detect the movements of humans and animals engaged in locomotor-rotational play.
The project tests a new method of rhythmanalysis (an approach to site analysis invented by sociologist Henri Lefebvre in the 1990's). In order to understand any given place, Lefebvre proposed that urban designers should, over weeks of time, identify the rhythms and patterns that regularly manifest themselves there, observing and noting them from a half-sheltered, half-exposed location. As a supplement to Lefebvre's method, which has a literary or "feuillitonistic" flavor, the project tests an "impressionistic" method, identifying characteristic rhythms that appear in video footage of the project site. 4K-resolution video data is being continuously gathered from two camera positions. The survey period extends over three years of time. The act of reviewing this giant and constantly growing data set itself takes an extremely long time. Performing the slow analysis one feels that one is detectably aging. The rhythms unfolding from day to day, season to season, and year to year become physically palpable.
Philosopher Barbara Adam proposes that sensitivity towards unfamiliar rhythms and tempos (aka "timescapes") is a prerequisite for ecological awareness. In this project we speculate that our capacity to enter into unfamiliar senses of time—and therefore our ability, potentially, to see the world from an ecological perspective—is affected by the position and orientation of our bodies. To explore this hypothesis, benches and pavilions have been placed throughout the garden that invite visitors to lie or sit, facing various directions, in correspondence with key places and view angles identified in dance-based site surveys. Continuous on-site video documentation will allow us to see how these benches are actually used by visitors. In user workshops and interviews, we will ask if the experience of these benches has influenced visitors' habitual senses of time or affected their awareness of the not-human world.
In this project we wish to image a design approach for the not-human world that goes beyond a utilitarian or behaviorist perspective. What is the relevance of design, conceived as an aesthetic practice, for the not-human world? Human beings lack any conception of an extra-human aesthetics or emotional life. Perhaps the most we can do, as designers, is to imagine what could bring benefit to other beings; realize these changes provisionally; and then confirm, post-facto, whether the consequences of these actions were beneficial or not. To compensate for our inability to understand not-human life experiences, we can try to develop techniques of speculative empathy and objective evaluation.
In this project we explore different ways to measure positive affect in the not-human world. For example, under conditions of safety and security, various species exhibit patterns of locomotor-rotational play. Incidents of this type of play may have a characteristic movement signature detectable by our AI-based motion analysis method.
The different research aspects weave together. To perform a rhythmanalysis through long-duration video footage, one must enter into unfamiliar timescapes and tempos. The dancer's site investigations are practices of speculative empathy and of bodily attunement. Dance is, in part, an acculturation of locomotor-rotational play.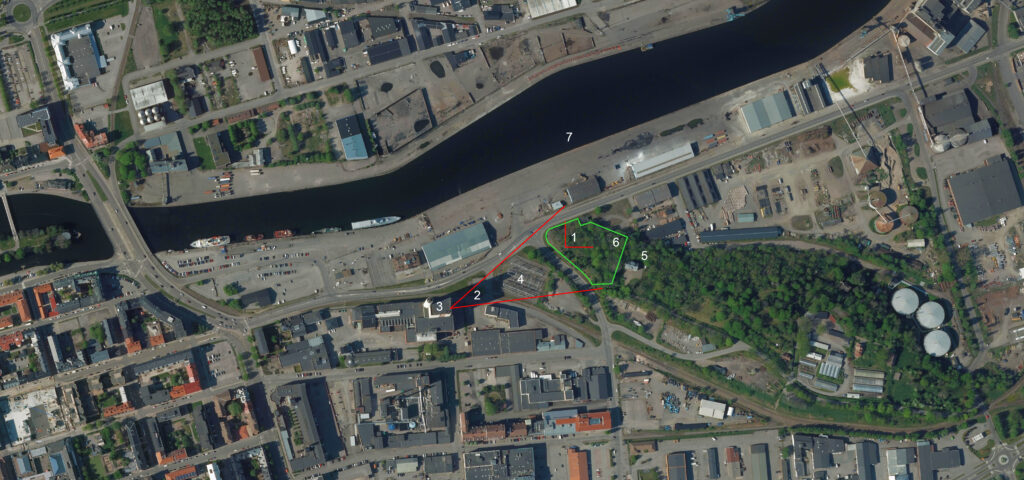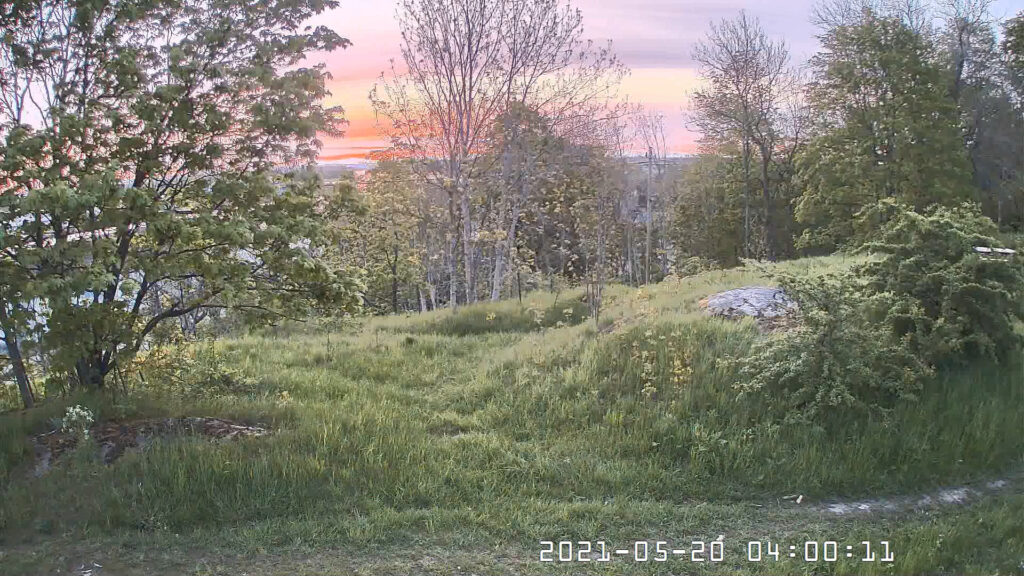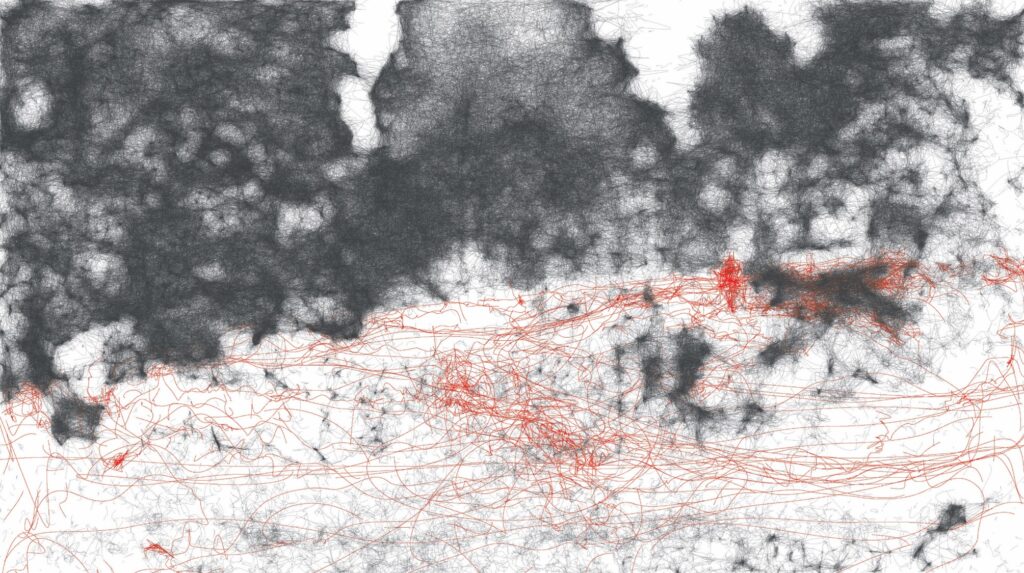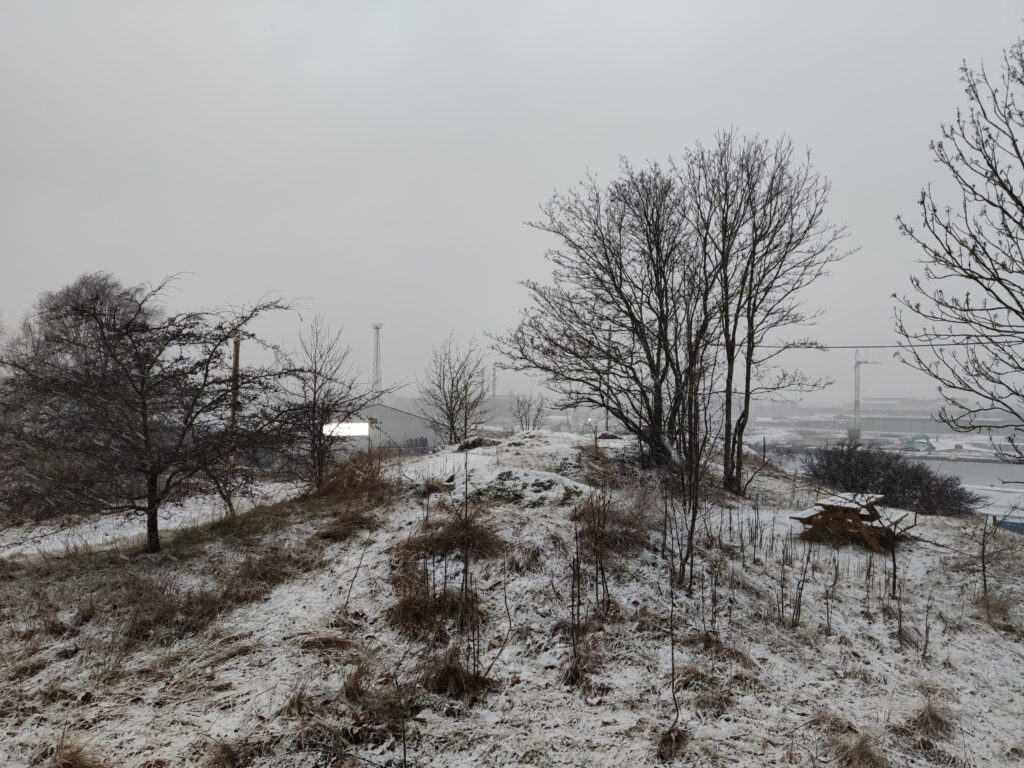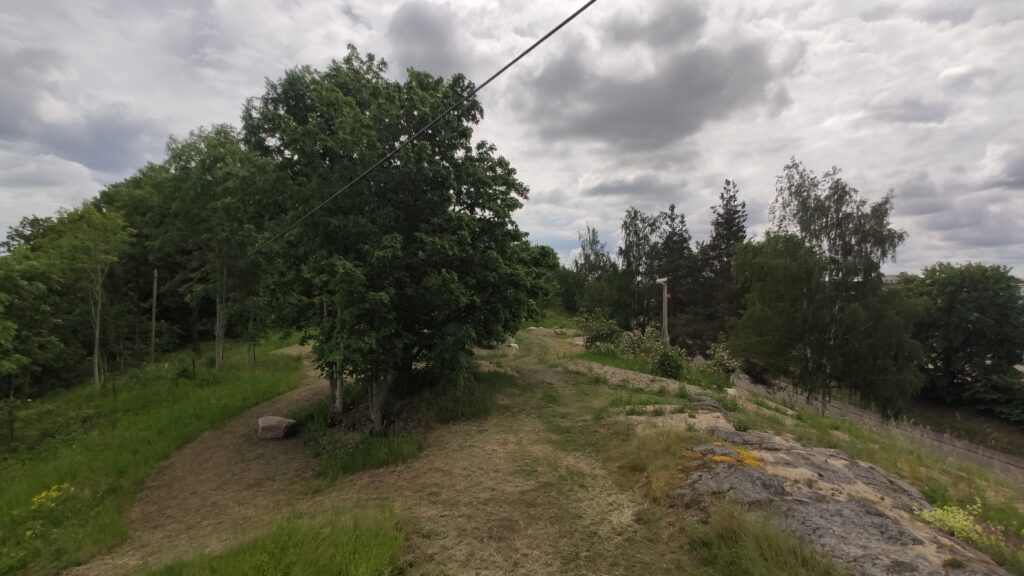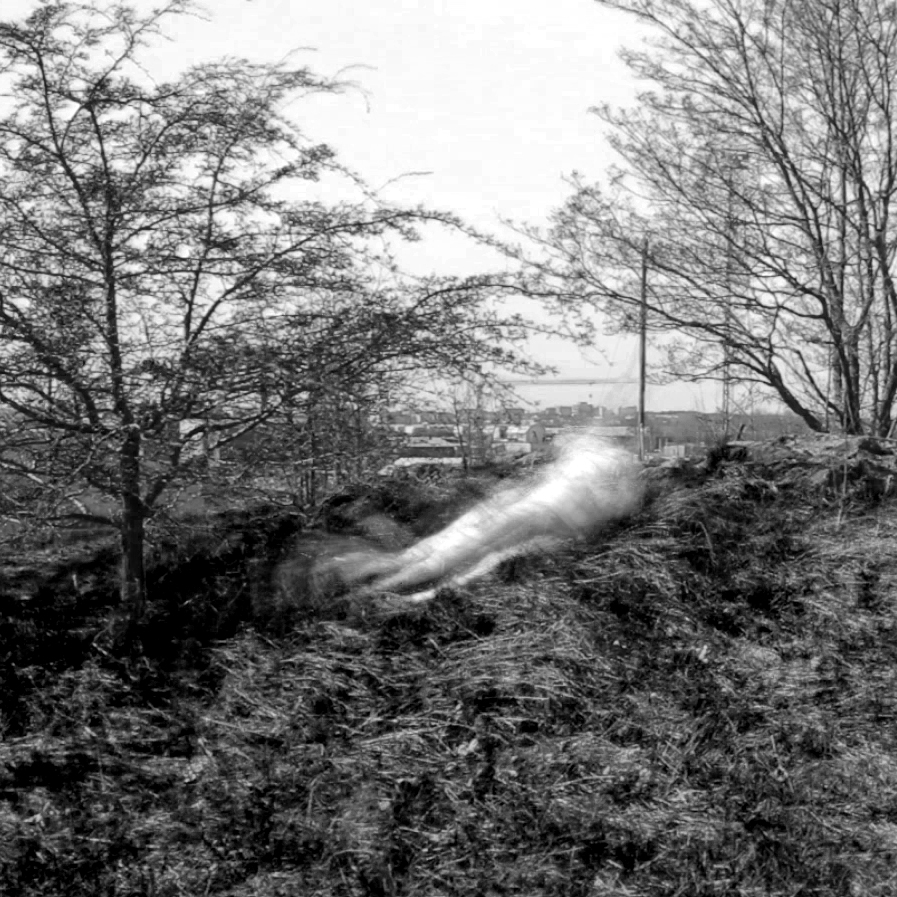 To listen to a conversation between Peter Lynch and filmmaker Ingrid Rieser about the timescape garden, architecture practice, and landscape architecture, visit her "Forest of Thought" podcast at https://anchor.fm/forestofthought/episodes/13–The-architect-and-the-garden–PETER-LYNCH-e12tciv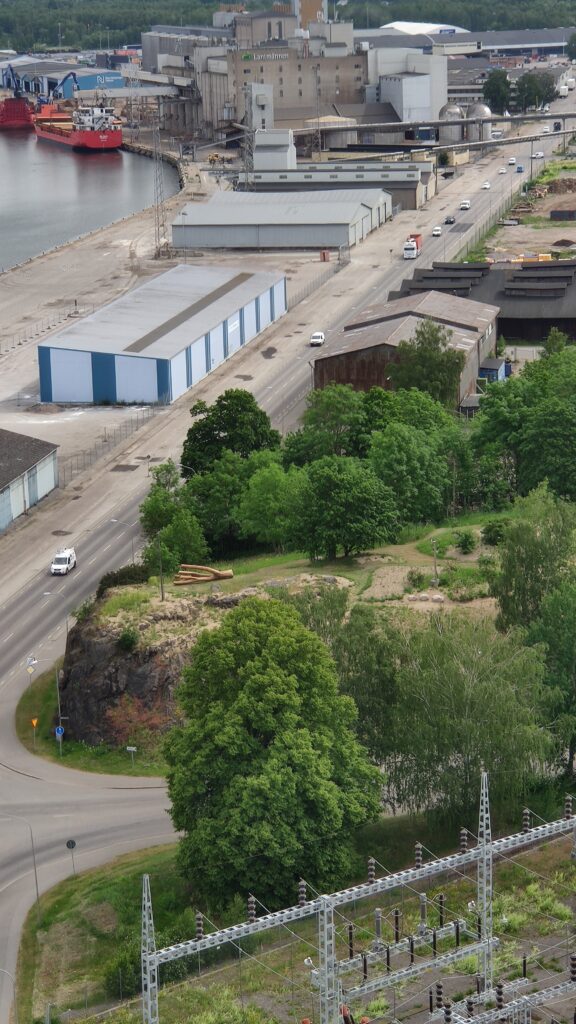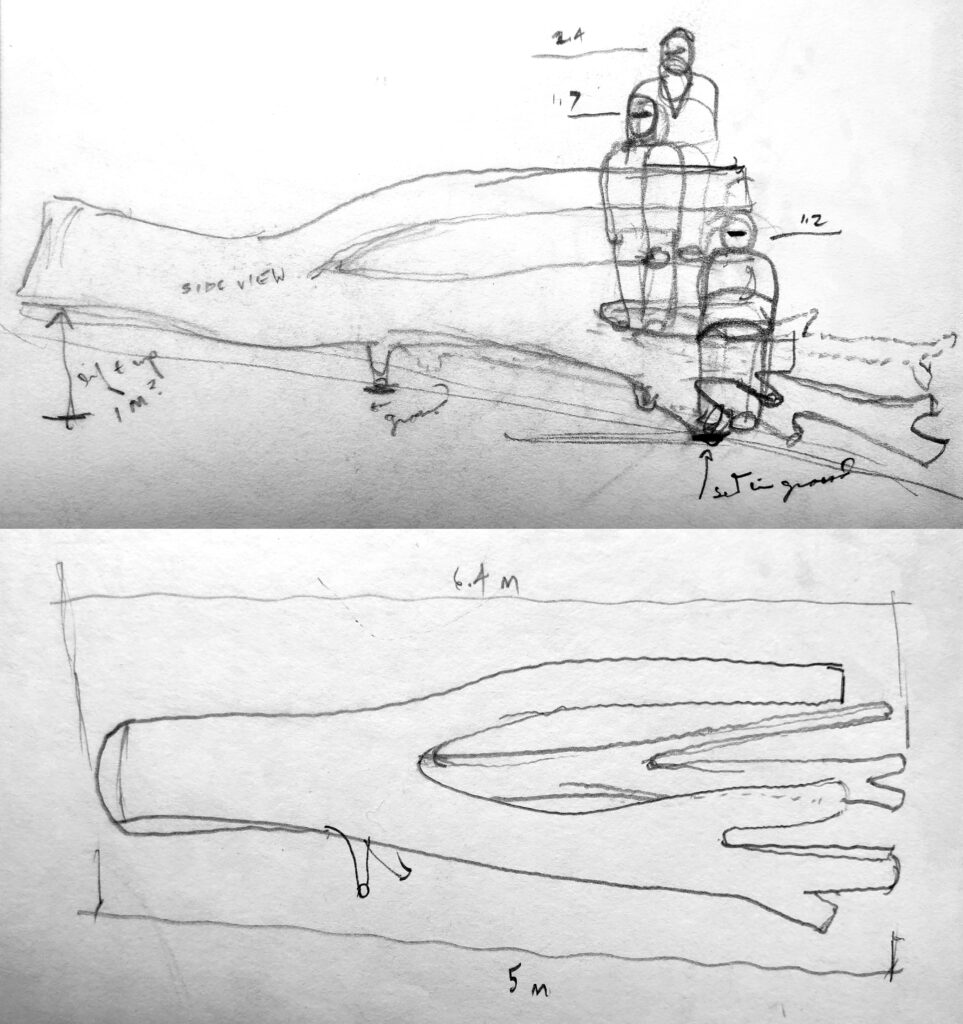 Viewing Pavilion
In June 2023 Norrköping municipality will build an open-air viewing pavilion in the Timescape Garden at the boundary between the wildflower garden and the forest glade area. If visitors linger in the pavilion they may see ground animals. Tracking data gathered since 2021 shows that most of Sylten's ground animals (rabbits, pheasants, foxes) enter the wildflower garden by crossing this boundary. The animals explore the wildflower garden and then return to the forest meadow area. No ground animals seem to enter or leave the site from the western or northern ridge.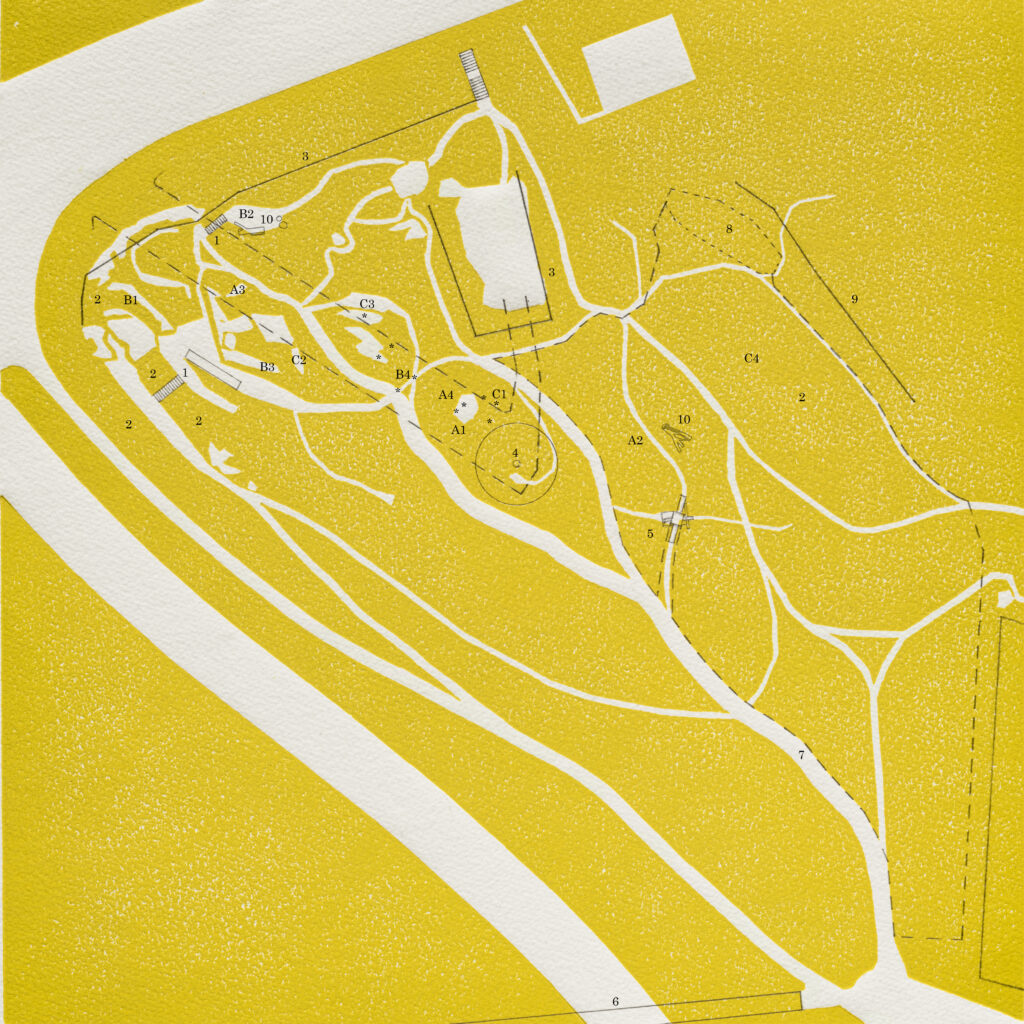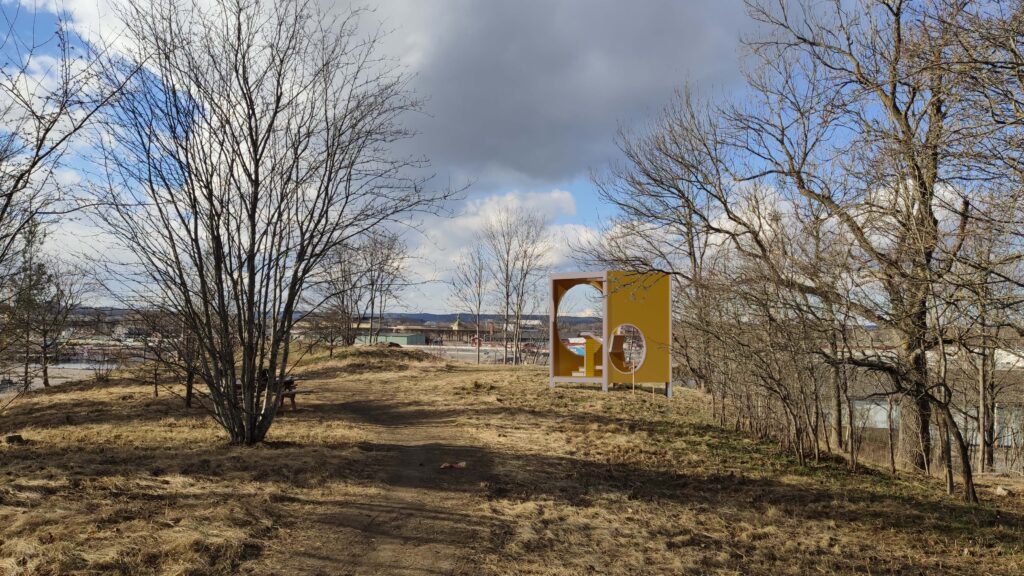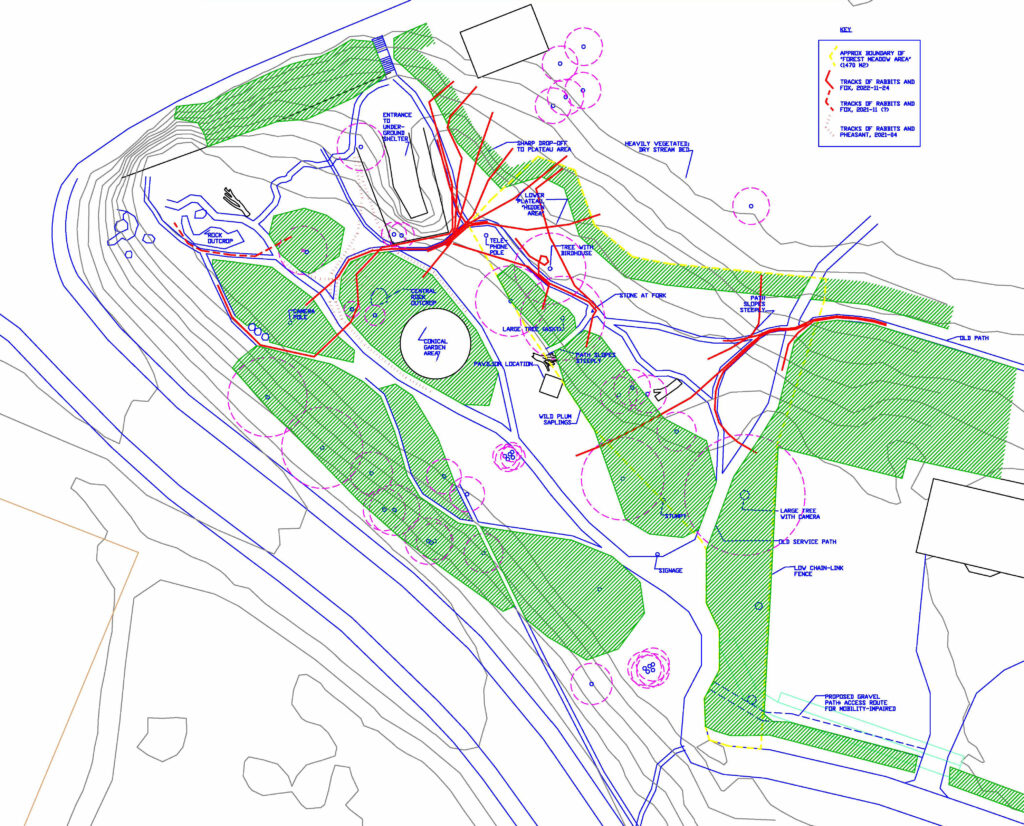 The viewing pavilion contains a special bench that accommodates more than one person. Visitors can sit or recline in four different positions. The visitor's view from each of these positions is framed by a circular opening. A chaise longue faces the sky and tree branches above. An elevated seat faces the horizon and the promontory at the northwest end of Syltenberget. An armchair faces a ravine in the forest glade area. A bench for children faces a thicket at the boundary between the wildflower garden and the forest glade.